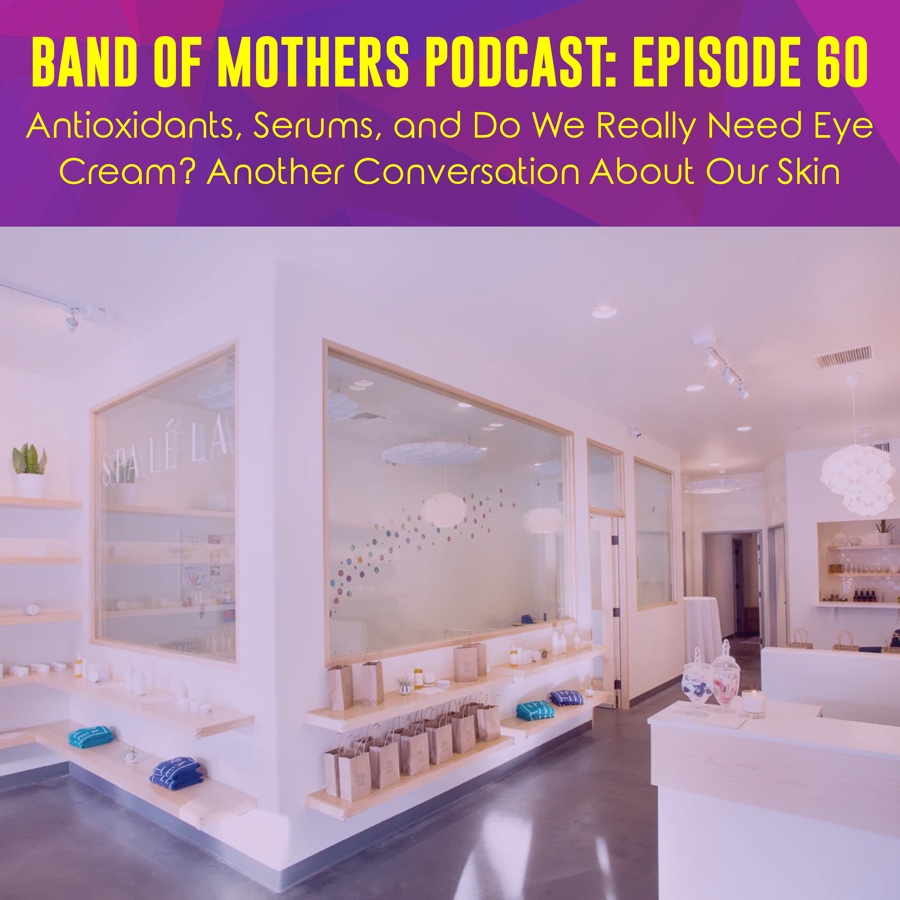 This episode is brought to you by our friends at Good Buy Gear: a full-service marketplace for buying and selling kid gear. They are redefining the secondhand market and making it super easy to get rid of OR BUY everything you need for a baby or kid at amazing prices. 
Use the Code PUMPANDDUMP10 for $10 to shop on goodbuygear.com for first time orders — $50 minimum. or for $10 off first your pickup.
****
We'd be lying if we didn't admit that mom skin looks and act a lot different than the skin we had before children. Hormones, sleep deprivation, stress, diet and that ugly word 'aging' seem to magnify themselves on our faces with each passing year. So, we decided to have another skin care expert on the BOMpod to discuss what we can do to age gracefully. Trina Renae is an experienced aestetician who founded the renowned Spa Lé La in Los Angeles which features nourishing, healing skin care modalities with a special focus on moms. As in...they have FREE CHILDCARE AT THE SPA! Trina (a mom, obvi) lays it all out for us while we desperately try to understand what skin care products really do, and how we should use them.  Here's some points of discussion:
A proper nighttime routine (yes, you need one)
Why we need antioxidants
What's a serum and what should be in it?
The truth about eye cream
The truth about exfoliation
The truth about getting too much botox
All products we discuss on this episode can be found on the Band of Mothers App > Streaming + Fun Stuff > Shop The Podcast
Things we're into: If you're looking for links to anything we've mentioned on our podcasts it's all in one awesome area on our Band of Mothers App! Download our app today (on Apple and Android, links below) then head over to our Streaming + Fun Stuff page and click "Shop the Podcast" to find all the tidbits we mention together and with our guests from all our past episodes. We hope you enjoy it, and let us know if we miss anything!
For continued discussion about this episode and every episode from our podcast, download our social media app for moms, Band of Mothers
Apple: https://apple.co/2rmQ2QI
Android: http://bit.ly/2JYtUm9
How have you been enjoying our podcast? If you're into it, can you please leave us a rating or comment? We value your feedback so we can make this thing better!
And as always, we'd love to hear your thoughts. Email us anytime at pumpanddumpshowATgmail.com, leave a rating or comment on your podcast app, or tell us IRL and come see us at a show!
For tour updates and more shenanigans, follow Tracey, Shay and the whole P+D team at:
Facebook: https://www.facebook.com/ThePumpAndDump/
Instagram: https://instagram.com/ThePumpAndDumpShow/
Tour schedule: https://www.thepumpanddumpshow.com/tour 
**************
Shayna and Tracey have been friends since the 8th grade – that's over 25 years. After college, they each moved to separate coasts for a decade. They were reunited when they decided to leave big city life and settle down with their families in Denver, Colorado and Facebook told them their daughters are 3 weeks apart. After several play dates, some more childbirth, some unsuccessful pumping, and the overwhelming nature of mommy community boards, The Pump and Dump Show was born.
The show launched in 2012 in a bar in Northwest Denver and quickly grew to a bi-monthly, local staple for new moms to have a night out. In 2014, Shayna and Tracey took The Pump and Dump Show on its first national tour, and in September of 2019 The Pump and Dump Show expanded with more casts of real moms who continue to perform every month to audiences nationwide.
For tour updates and more shenanigans, follow Shay and Tracey at:
Facebook: https://www.facebook.com/ThePumpAndDump/
Instagram: https://instagram.com/ThePumpAndDumpShow/
Tour schedule: https://www.thepumpanddumpshow.com/tour